The Mending Tour… New audio/video download and double CD!
Following the release of the amazing album (see below) comes this fantastic new live recording, mixed and mastered by me. I went to the Totnes gig earlier in the tour and to witness the fantastic musicianship and performances in the flesh was utterly mesmerising! Now you can see and hear a later gig (recorded at the Wiltshire Music Centre), mixed and mastered at my Manor Gardens Studio. Pre-order here: https://billiebottle.bandcamp.com/album/the-mending-tour
Billie Bottle's Temple of Shibboleth
Billie Bottle
I first met the engaging Billie about 20 years ago at Steve Winwood's studio in Gloucestershire. I'd engineered Steve's "About Time" album and was back there to produce another band. Billie swung by to add some inspired keyboard parts to the band's recordings.
To Devon
On moving to Devon in 2019 I discovered that Billie was also now local so we met up for a cuppa. Then when she had later come up with the Temple of Shibboleth concept and demo'd the album I was delighted that she wanted me to produce the album. Over a period of time we spent a couple of odd days doing intense preproduction, sifting through the extremely detailed and thorough demo multitracks. Billie brought her conspirator Viv Goodwin-Darke along, and I introduced them to (my favourite) Twinings Buttermint Tea. We planned the next stages.
Momentum
After those few days at my Manor Gardens studio we decamped to the fabulous Momentum Studios in Plymouth to track the ensemble parts with the incredible Temple of Shibboleth musicians Emma Holbrook (drums), Viv Goodwin-Darke (flute), Roz Harding (sax) and Anna Batson (bassoon) joined Billie (who was mostly at the piano), and quickly recorded the most extraordinary and complicated parts dreamed up by Billie. There was also some terrific ensemble vocal recording too. I managed to keep track of all the various takes and fairly efficiently 'comped' the best bits together to create master takes.
Manor Gardens Studio
Back at mine we recorded further bits and bobs of flute, vocals, Hammond organ etc. And Richard Sinclair (ex-Caravan) sent us a bass guitar part to slot in.
I then set about mixing and mastering, and Billie returned to work with me on some of the details.
The finished album is something I am extremely proud of – I reckon it's a magical and brilliant album.
Billie's musical genius is astonishing, and her vision is extremely clear!
There is a fascinating concept to the album which you can read about elsewhere…
Have a listen on Bandcamp and order the gorgeous double vinyl!
This is my signed copy…!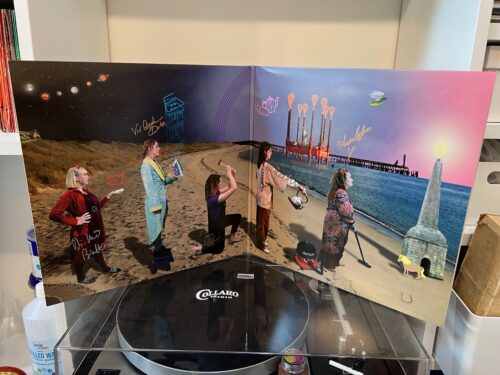 I'm also pleased to report that Buttermint Tea has become an important part of their current tour. I caught up with the band show at Totnes' Barrel House for an incredible night where the whole album was performed live in an incredibly exuberant and engaging stage performance, including a number of rituals…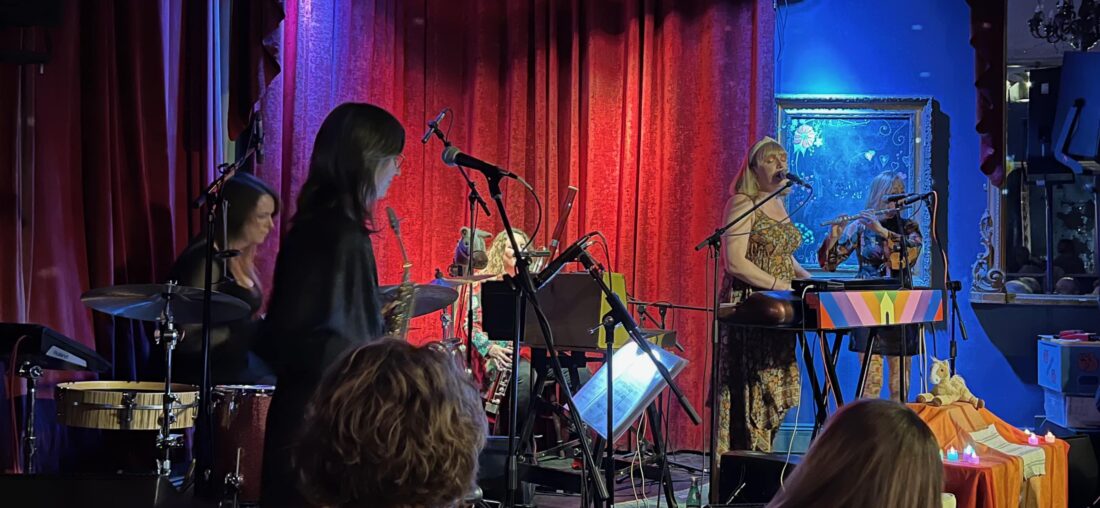 Billie says: "I am absolutely knocked out by what you've done. Honestly, this is all sounding fabulous beyond my wildest dreams. The mastering has made it even warmer, instrument placement is inspired and the vocals sound amazing! And yes, you can use that on your website heehee."